Telling the Next Generation:
The Evangelical Lutheran Synod's Vision for Christian Education, 1918–2011 and Beyond
Edited by Ryan C. MacPherson, Paul G. Madson, and Peter M. Anthony, with assistance from Bethany Lutheran College student interns
Mankato, MN: Lutheran Synod Book Company, 2011
A 2012 recipient of the Award of Commendation from Concordia Historical Society!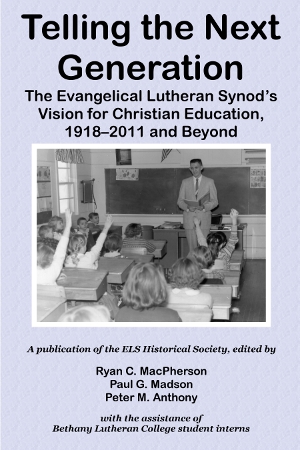 Overview:
This anthology reproduces classic statements concerning Christian education by pastors and laypersons of the Evangelical Lutheran Synod. Suitable for both personal reading and pastoral reference, this historical sourcebook of Christ-centered education includes forty-five documents spanning nearly a century. Dozens of photographs and other illustrations supplement the text. Carefully researched introductions recapture the contexts in which church leaders have addressed critical issues concerning Christian education, including:
Education in the Christian Home
Christian Elementary Schools and High Schools
Christian Colleges and Seminaries
A Christian Liberal Arts Education
Government Aid for Christian Education
Academic Freedom and Christian Integrity
"We will tell the next generation the praiseworthy deeds of the LORD." Psalm 78:4
Founded by members of the Evangelical Lutheran Synod in June 1996, the ELS Historical Society promotes interest in the historical and doctrinal heritage of Lutheranism, particularly of the Evangelical Lutheran Synod and its institutions; stimulates historical research; publishes historical studies; assists congregations in the preservation of local congregational history; preserves items of museum quality; and, provides assistance to the ELS Department of Archives and History.
Reviews:
"This book deserves to be read along with other hisotrical surveys of the ELS: Grace for Grace, Faith of Our Fathers, A City Set on a Hill, and Built on the Rock. Read it not only as a history, but as a source of encouragement and exhortation, of examples of the commitment to the faithful instruction of the next generation still needed in our own day." Thomas L. Rank, Lutheran Synod Quarterly 51, no. 4 (2011): 397.
Ordering Information
Order directly by sending a check for $23.95 per copy payable to ELS Historical Society, 6 Browns Court, Mankato, MN 56001. Shipping, handling, and (when applicable) sales tax will be paid by the Evangelical Lutheran Synod Historical Society.
Follow Telling the Next Generation on Facebook!