Publication List
Publications
Following are outlines, abstracts, or in some cases full-text reproductions of several of my published writings. If you'd prefer to search by topic, simply enter the appropriate key words in the search box in the upper right corner.
View by Category of Publication or view All Publications.
These works have been published in peer-reviewed journals or included in scholarly anthologies. Researchers often use such venues as stepping-stones toward the development of a book-length project.
A review essay (sometimes called an essay review) examines one or more recent books in depth, indicating where the new scholarship fits in relation to previous scholarship on related topics. Like a book review, it analyses a book. Like a research article, it relies upon a substantial bibliography.
As a writer and an editor, I have published several books and am working on a few others.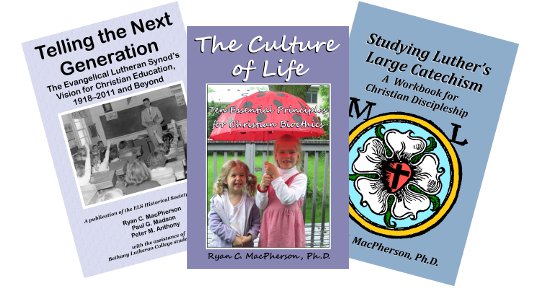 Here I offer my scholarship in service to the Christian church, with a particular desire to edify a general audience. Professors accustomed to a "publish or perish" university culture may find my academic writings more impressive than these simpler devotional items, but I am convinced that the most lasting value is to be found in these straightforward attempts to communicate God's Law and Gospel with clarity and compassion.
Although a teacher, I remain forever a student—whether formally or informally. I invite my students to peruse these research papers, most of which I have written for courses at Bethany Lutheran Theological Seminary and others of which may have been written for other purposes.
An op ed appears on the page "opposite the editorial page." Here guest columnists evaluate currrent events and suggest new angles for addressing controversial topics.
Book reviews help fellow scholars to obtain a basic understanding of recent scholarly literature, so that those desiring to learn more will know where to look. Reviews go beyond summarizing by also evaluating the strengths and weaknesses of a book and comparing it with other books on related topics.
What did Americans at Princeton, Yale, and Harvard think of evolution before Darwin published Origin of Species? How did their theological commitments shape their scientific outlook? That's what I set out to discover when preparing my doctoral dissertation for a public defense before a panel of professors at the University of Notre Dame in 2003.